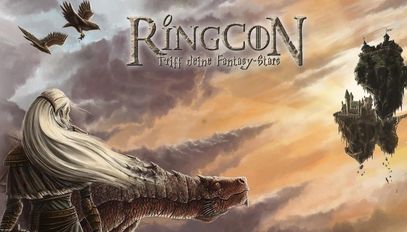 Manu Benett - Alfie Allen - Kristian Nairn - Finn Jones - Gemma Whelan - Josef Altin - Luke Barnes - Riley Smith - Nathaniel Busolic - Sebastian Roche - Craig Parker - Lori Dungey - Ken Duken - Anatole Taubman - Tom Hopper - Tommy Krappweis
October 18th 2014 I spent one day at RingCon 2014. Originally I had planned to be there for three days. However, there had been a lot of cancellations, unfortunately also by the guests I was looking forward to the most and who had been the reason for me to buy my ticket: Keegan Connor Tracy and Raphael Sbarge ...
Fortunately, a friend of mine also went to the Con and gave me a ride, so that the journey did not become dull. After our arrival in Bonn, it took us just about 15 minutes to find a parking lot that was not too far from the Maritim Hotel.
After the check in I had nothing on my schedule until the autograph session and so I explored the location. Unfortunately, there was not too much to explore ... I bought two autograph templates for a friend who couldn't come to the con (I have to say, the choice of autograph photos was very modest and the image quality not always the charm. Good thing I always bring my own templates). Fortunately, I met many people that I knew and so time passed more quickly than expected.

Finally, the autograph session began. To fulfil the autograph wishes from me and the buddie who asked me to get him a few, I only had to queue in two lines. Actually even in only one, because with Sebastian Roché the queue was rather short, as were most of the others, only the one for Manu Bennett was excessively long. With Sebastian I talked briefly about the series "Odyssey 5" (my autograph template was from the series), then I joined the queue of Manu. Before I left the room, I chatted a bit with a friend and was able to enjoy, when a collective "Awww ..." went through the hall when Manu was kissing a baby.

After that I had some free time, as by now only the panel of Sebastian was left on my program, but this time I bridged again very nice with more or less witty conversations.

Finally, it was time for Sebastian's panel.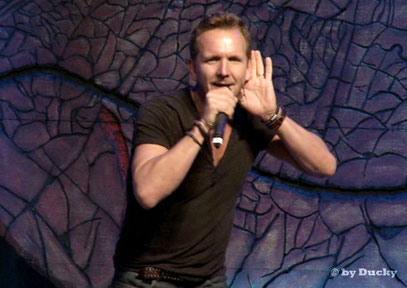 I've heard before that his panels are quite "unusual" and that was totally provided. He entered the stage but didn't stay here for long. He walked through the rows of the hall or went upstairs to the gallery, where he wanted to play Romeo and Juliet. Sebastian is just a strung bundle of energy that cannot be stopped, what Lori experienced, too, when she came on stage and tried to focus him on answering questions. At this time Sebastian had begun to sing and made us sing with him. With the queues at the microphones becoming longer and longer Lori finally made him answer the first question. 20 minutes after Sebastian entered the scene the first question was asked. Well, kind off, 'cause Seb was still making fun and so it took about 4 minutes until the question was finally asked. And it was like this during the whole panel. Sebastian was going wild, he made indecent jokes ... and sometimes even answered questions. Well, kind of ;) . He reminded me of John Barrowman and Ben Browder at FedCon 2013. In summary, one can say it was one of the craziest hours of my life and I had fun.

Now I had to wait a little while for my friend (she was doing the Spartacus photoshoot, which was really crowded), then we drove home
As I said, RingCon was mostly not my fandom, but I had a really nice day and Sebastian's panel alone was worth it. I would come again, if the right actors were invited.